Buy with confidence! This centrifuge is backed by our
Hassle-Free 60-DAY WARRANTY


Clean, functional and in pristine working condition. This centrifuge was very recently in service at a well maintained wine production lab before the facility closed its doors. Service contract maintenance and calibration were regularly conducted and the unit was well cared for by knowledgable technicians. This unit is currently within its scheduled maintenance window with the next calibration due Sept 31, 2022.

Tested at several speeds, this centrifuge spun up smoothly and quickly during our extended run tests without issue. Whisper quiet below 2000 rpm and extremely well behaved at all speeds.

See quick spin-up video demo below. (display lights do not blink as they do in the video. This is something to do with camera vs display frequency)

All input controls worked as designed and all functions performed flawlessly. Lid latch and door spring functioned as designed. Motor break and acceleration settings operated as expected. Interior chamber and lid gasket are clean and in excellent condition.

System includes power cord, SX4250 rotor, 4x swinging buckets and your choice of adapters for either 15ml or 50ml conical tubes.

Hassle free warranty.


**DUE TO SIZE and WEIGHT, WE WILL BE SHIPPING THIS VIA FREIGHT CARRIER.**
Contact us with zip code, and let us know if you have a forklift or loading dock on site for a freight quote.

To setup shipping with your own freight carrier, use the following info:
Ship weight: 150lbs
Dims: 30"W, 30"L, 24"H
Pickup location: 94928 | Forklift onsite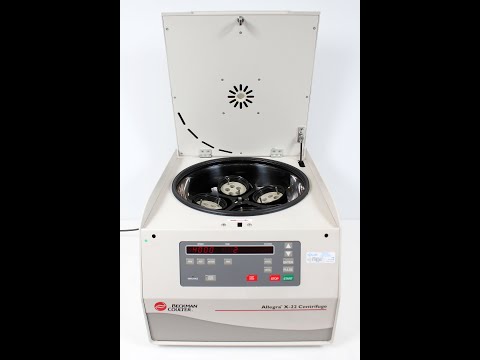 Allegra X-22 Centrifuge Demo
Video will open in a new window
Using the eBay App? Paste link into a browser window:
[isdntekvideo]


Manufacturer Description

The ultra reliable Beckman Allegra X-22 is a compact, everyday multipurpose benchtop centrifuge that can be used for a wide range of applications. The sleek and small foot-print design makes the Allegra X-22 a very attractive centrifuge for scientists and researchers looking to maximize their lab space. This Beckman Coulter Centrifuge is 10 inches thinner than most other table-top centrifuges. Scientists have a large selection of Beckman rotors to choose from with the space-saving multipurpose Allegra X22. This benchtop centrifuge has timer functions, from up to 9 hrs and 59 mins, hold and pulsing.
The Beckman Allegra X-22 Centrifuge has a library of 11 rotors, sold separately, and can achieve up to 22065 x g depending on the rotor. The SX4250 swing bucket rotor has a max speed of 4500 RPM and a max G-force of 3901 x g. The maximum capacity this benchtop centrifuge can hold is 4 X 250 ml. This Beckman tabletop centrifuge has a quiet to operate brushless induction drive, and 10 acceleration and deceleration profiles to suit your needs.


Specifications
Speed
0 to 14,500 rpm
Timer
0 to 9 hours 59 minutes, or continuous

Can be set as timed run or elapsed time

Environmental Temperature Range
4°C to 35°C ambient
Noise Level
≤ 70 dBA
Acceleration
10 built-in programs
Deceleration
10 built-in programs
Electrical
120 VAC, 4.5a 60Hz
Dimensions (L x W x H)
22x19x14"
Weight
116 lb