Clean and in excellent working and cosmetic condition. These units were removed from a premiere state laboratory with regular service contract maintenance. Tested in our facility and fully functional. Both units spun up quickly and maintained excellent behavior during hours of continuous use. All input and display functions operated perfectly.

This Megafuge comes with TX-200 swinging bucket rotor (Thermo Scientific 75003658), buckets (75003659) and 10mL (x7) tube adapters (75003808).

Both units were manufactured in 2014. Both units have new door struts. All seals and motor boots are in excellent condition. We have 2 identical units in stock. The listed price is for 1 (one).Hassle-free, 30 day warranty.



These will each have a flat rate FREIGHT shipping fee of $240 applied. This cost assumes that they are being shipped to a commercial address that has either a forklift or loading dock onsite. If your address is residential or you need a lift gate truck delivery service, addtitional fees will need to be calculated before it can ship.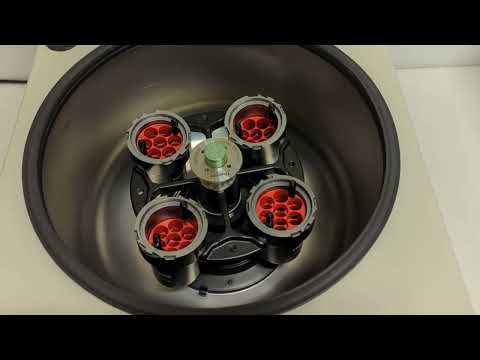 Thermo Scientific Megafuge 16 Quick Demo
Video will open in a new window
Using the eBay App? Paste link into a browser window:
[isdntekvideo]
Megafuge 16 Description
The Thermo Scientific Heraeus Megafuge 16 general purpose centrifuge series is ideal for everyday sample processing, including clinical protocols, cell culture applications and microplate processing. The Megafuge 16 processes a high volume of everyday samples in an energy-efficient manner. This benchtop centrifuge is microprocessor controlled and has a six-program memory bank to store your processes. The system includes a built-in timer up to 9 hours and 99 minutes, or with a hold function. The Heraeus Megafuge 16 has a wide selection of easy to install rotors to choose from, that lock into place with the click of a button. This easy to use centrifuge has a maximum capacity of 1.6 liters and tops off at 15,200 RPM. The Megafuge 16 Centrifuge is constructed out of quality materials including a maintenance-free motor, SMART-spin technology with imbalance detection and advanced rotor management.
Easy To Use
Intuitive controls simplify operation and provide detailed information on a wide range of operating parameters and processing status for optimal performance
Motorized lid latch enables one finger downward motion for easiest closing and locking of centrifuge lid, even on tall benches
Auto-Lock™
III Rotor System
Secure locking system allows easy push-button installation and exchange of rotors
Saves time switching between applications
Easy access to rotor chamber for quick cleaning, a healthier working environment and longer unit life
ClickSeal™ Bucket Sealing System
Biocontainment solution seals with a snap; eliminates screw caps and complicated clips
Glove-friendly, one-handed open/close capability
Certified by CAMR™ in Porton Down, UK
SMARTSpin™ Technology
Advanced rotor management system maximizes acceleration, braking and residual load imbalance for each rotor and bucket option
Optimizes safety and improves separations
Space-Savings Design
Compact dimensions optimize work area and ergonomic height and curved design ensure easy sample loading and unloading and easy cleaning
Outstanding Energy Efficiency
Up to 40% energy consumption savings on industry standard protocols, such as standard blood separation or conical tubes processing
Ventilated Megafuge 16
Dimensions: 23.8L × 17.3W × 14.2in.H [34.3in.H open] (60.5 × 44 × 36cm [87cm open])
Net Weight: 126.8 lb. (57.5kg)
Recommended for:
Cell Culture, Blood Processing, Microplates



Specifications
| | |
| --- | --- |
| | Direct, brushless induction low-profile motor |
| | 6 programs, direct access |
| | 4 x 400mL |
| | 15,200rpm |
| | Digital |
| | 87cm |
| | 44cm |
| | Heraeus Megafuge 16 Centrifuge |
| | Microprocessor |
| | |
| --- | --- |
| | 126.8 lb. (57.5kg) |
| | 9 hr. 99 min. plus HOLD |
| | 25,830 x g |
| | No |
| | 36cm |
| | 60.5cm |
| | IVD Compliant, IEC 61010-1, IEC 61010-2-202, IEC 61010-2-101. UL Listed, CSA certified, CE marked, IVD compliant, Certified Biosafety |
| | 120V 50/60Hz |
TX-200 Swinging Bucket Rotor
Accommodate a wide range of processing volumes with the Thermo Scientific™ TX-200 4 x 180mL Swinging Bucket Rotor.

Compatible with:
Thermo Scientific Sorvall™ ST16, SL16, Sorvall Legend™ X1, Multifuge™ X1, Megafuge™ 16 Centrifuge Series

Recommended for:
Cell culture, blood separation, body fluids processing, microbiology, proteomics, genomics and molecular biology
Specifications


| | |
| --- | --- |
| Description | TX-200 Swinging Bucket Rotor |
| Type | Swinging Bucket Rotor |
| Capacity | 4 x 180 mL |
| Max. RCF | 5,580 x g |
| Max. Speed | 5,500 rpm |
| Radius (Metric) | 16.5 cm |
| Max. Tube Length | 123 mm |
| Max. Tube Diameter | 56.5 mm |
| For Use With (Equipment) | Thermo Scientific Sorvall Legend X1, Sorvall ST 16, Multifuge X1, Megafuge 16 and SL 16 Centrifuges |
| Angle | 90° |
| Certifications/Compliance | Biocontainment certified by CAMR™, HPA, Porton Down, UK |
| Biocontainment | Yes |
| Unit Size | Each |
| | |
| --- | --- |
| Description | Round Buckets for TX-200 Rotor (4) |
| Type | Swinging Bucket Rotor |
| For Use With (Equipment) | Thermo Scientific Sorvall Legend X1, Sorvall ST 16, Multifuge X1, Megafuge 16 and SL 16 Centrifuges |
| Biocontainment | Yes |
| Unit Size | Each |